Regulations of Graduation Credits
NCKU Notice of Course Enrollment for the Fall semester of 2023
Information of Course Enrollment
NCKU reference for time and period of courses
Please see the detail about schedule and instructions above ⇑.
Please check the schedule and the information for 'designated students' at each stage because some stages will be distributed to designated students.
Course Information & Enrollment System
Confirmation of Required Course Enrollments for Undergraduate Programs: 9:00 July 12, 2023 to 9:00 July 17, 2023
1st Stage of Course Enrollment (Preliminary Enrollment): 9:00, July 17 to 17:00, July 21
Instructions on Second Registration for Preferred GE Courses for Computer-Selected Enrollment: 9:00 to 17:00, July 26
ξ All graduate students must take course 'seminar (or special topics)' each semester. Please check your semester and enroll this course.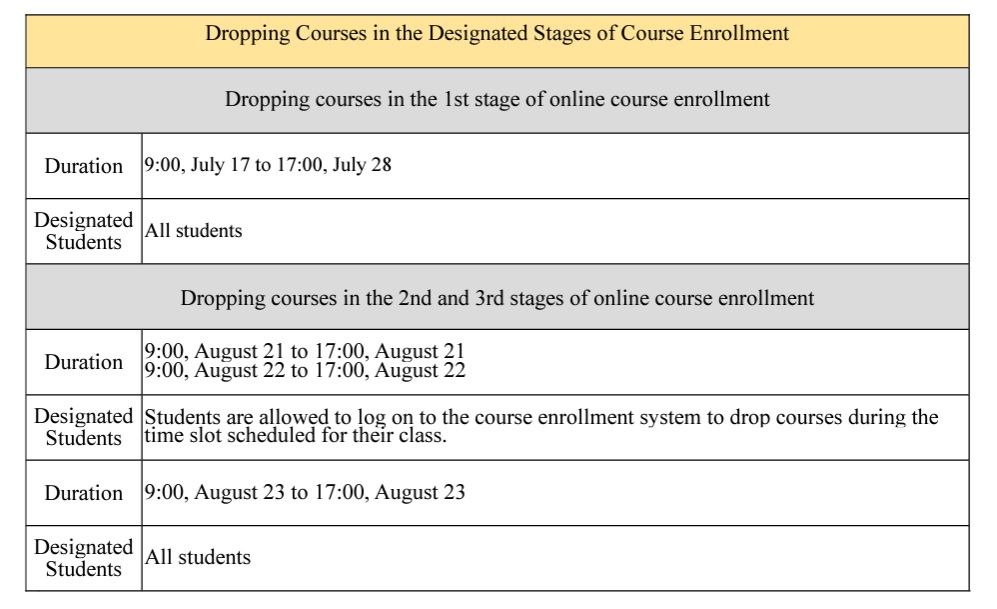 2nd Stage of Course Enrollment: 9:00, August 18 to 17:00, August 25
Confirmation of Required Course Enrollments for Freshman Students and Intercollegiate Transfer Students in Undergraduate Programs: 9:00, August 18 to 9:00, August 22
Online Pre-registration Function in Operation for the 2nd Stage of Course Enrollment: 9:00 August 18 to 17:00, September 15
Designated Students
3rd Stage of Course Enrollment: 9:00, September 2 to 17:00 September 25
English Module Program Course Enrollment: 9:00, September 1 to 17:00, September 2 [Undergraduate students (except FLLD students)]

Department/Institute/Program Office Course Enrollment:

9:00, September 4 to 17:00, September 8

Online Course Enrollment:

9:00, September 11 to 17:00, September 15

Course Enrollment Under Special Circumstances:

9:00, September 18 to 17:00 September 21
Students who are required to complete course enrollment under special circumstances (course cancelation, instructor change, schedule change, graduation requirement, or minimum course enrollment requirement)
Stage of Course Enrollment Confirmation: 9:00, September 22 to 17:00, September 25
Stage of Course Withdrawal: 9:00, September 22 to 17:00, December 1