Regulations of Graduation Credits
NCKU Notice of Course Enrollment for the Fall semester of 2022
Please see the detail about schedule and instructions above ⇑.
Please check 'designated students' at each stage because some stages will be distributed to designated students.
Confirmation of Required Course Enrollments for Undergraduate Programs: 9:00 July 6, 2022 to 17:00 July 13, 2022
1st Stage of Course Enrollment: Preliminary Enrollment: 9:00, July 14 to 17:00, July 18
Instructions on Second Registration for Preferred GE Courses for Computer-Selected Enrollment: 9:00 to 17:00, July 21
ξ All graduate students must take course 'seminar (or special topics)' each semester. Please check your semester and enroll this course.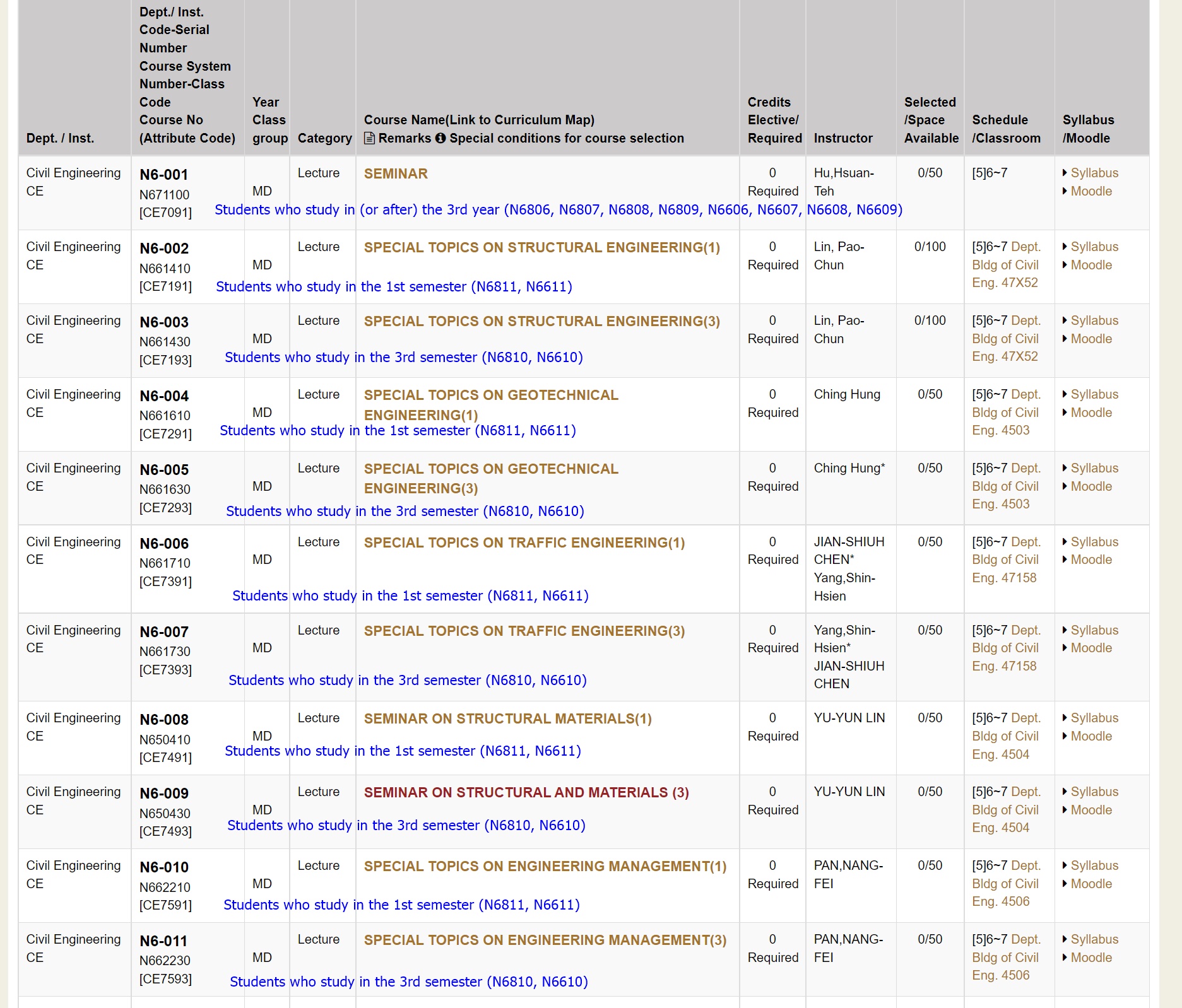 2nd Stage of Course Enrollment: 9:00 August 19 to 17:00, August 26
Confirmation of Required Course Enrollments for Freshman Students and Intercollegiate Transfer Students in Undergraduate Programs: 9:00 August 19 to 17:00, August 21
Online Pre-registration Function in Operation for the 2nd Stage of Course Enrollment: 9:00 August 19 to 17:00, August 26
Designated Students
Senior students and deferred students: 9:00~12:00, 8/22

Junior students 13:00~17:00, 8/22

Sophomore students 9:00~12:00, 8/23

All graduate students 13:00~17:00, 8/23

All continuing students & New graduate students of 2022: 9:00, 8/24 ~ 17:00, 8/26

Course Registration by Freshman Students: 9:00, August 24 to 17:00, August 26
3rd Stage of Course Enrollment: 9:00, September 2 to 17:00 September 22
Online Pre-registration Function in Operation for the 3rd Stage of Course Enrollment: 9:00, September 1 to 17:00, September 16

English Module Program Course Enrollment: 9:00, September 2 to 17:00, September 3

Department/Institute/Program Office Course Enrollment: 9:00, September 5 to 17:00, September 8

Online Course Enrollment: 9:00, September 12 to 17:00, September 16

Course Enrollment Under Special Circumstances: 9:00, September 19 to 17:00 September 22
Stage of Course Enrollment Confirmation: 9:00, September 23 to 17:00, September 27
Stage of Course Withdrawal: 9:00, September 23 to 17:00, December 2